How do we understand email marketing campaigns?
Through email marketing campaigns, you can interact with your audience and encourage them to take specific actions, like visiting your website, buying something, or signing up for a service, etc. Email marketing is regarded as the most effective marketing strategy when compared to SEO, social media, and partner marketing.
According to Campaign Monitor, the average return on investment for every dollar invested in email marketing is $44. Knowing how to effectively run an email marketing campaign is essential given the high ROI potential.
Everything you require to know about managing a successful email marketing campaign will be covered in this article.
What Kinds of Email Marketing Campaigns Are There?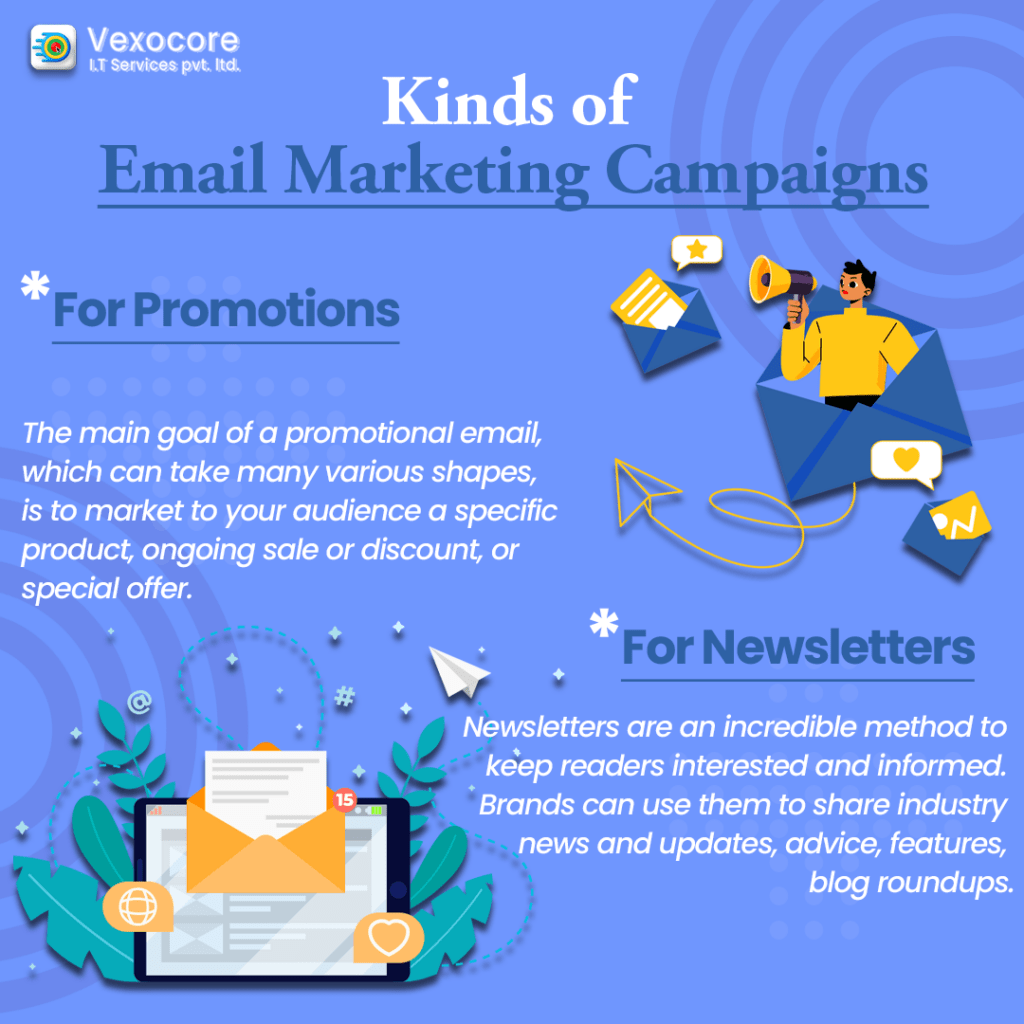 Email marketing campaigns for promotions:
The main goal of a promotional email, which can take many various shapes, is to market to your audience a specific product, ongoing sale or discount, or special offer. Additionally, promotional emails can be tailored based on subscriber behavior, like previous sales or web browsing patterns. These emails have the potential to be very successful at increasing client loyalty and bringing in quick money.
Email marketing campaigns for newsletters:
Newsletters are an incredible method to keep readers interested and informed. Brands can use them to share industry news and updates, advice, features, blog roundups, and more with their followers because they are typically non-promotional. They include a range of material, including articles, videos, and blog entries. Additionally, they can be altered to target particular subscriber groups based on their hobbies or behaviors.
Email marketing campaigns for re-engagement: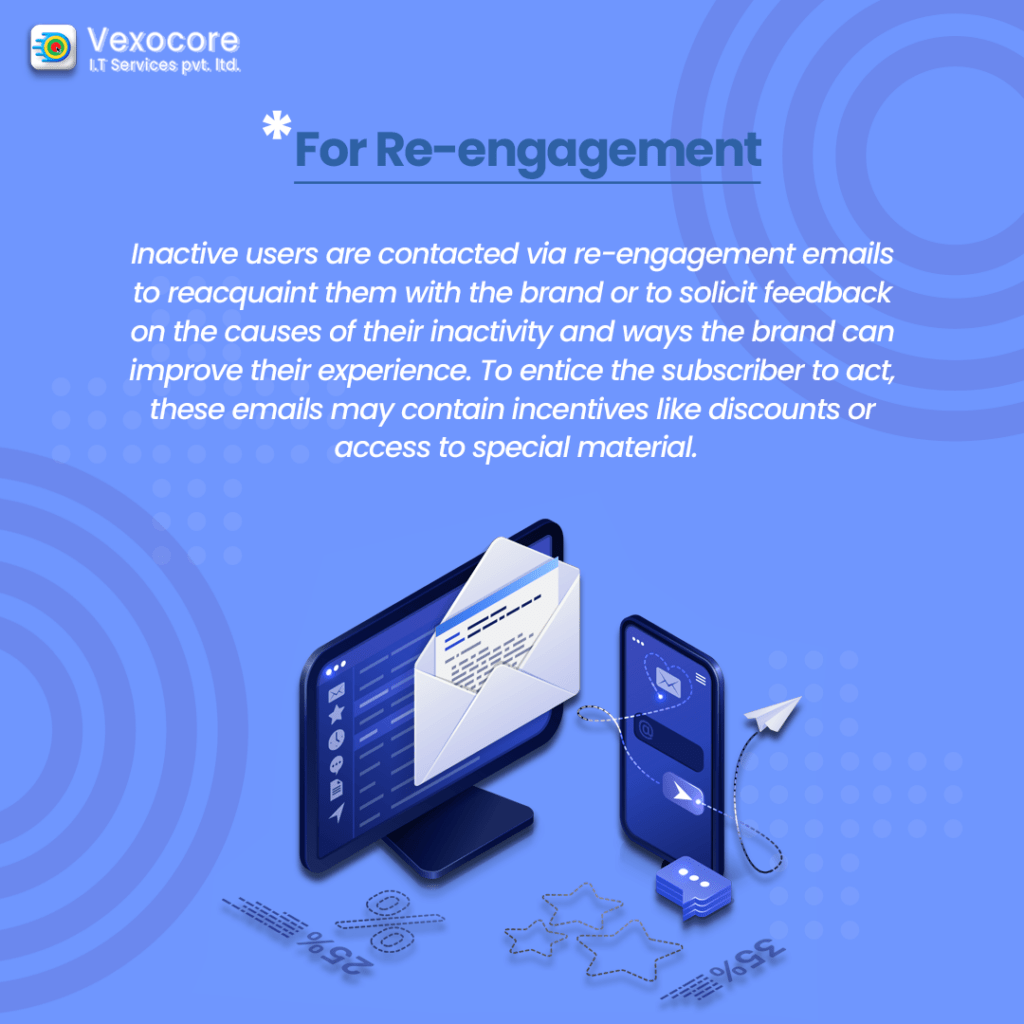 Inactive users are contacted via re-engagement emails to reacquaint them with the brand or to solicit feedback on the causes of their inactivity and ways the brand can improve their experience. To entice the subscriber to act, these emails may contain incentives like discounts or access to special material.
How to use email promotion efficiently?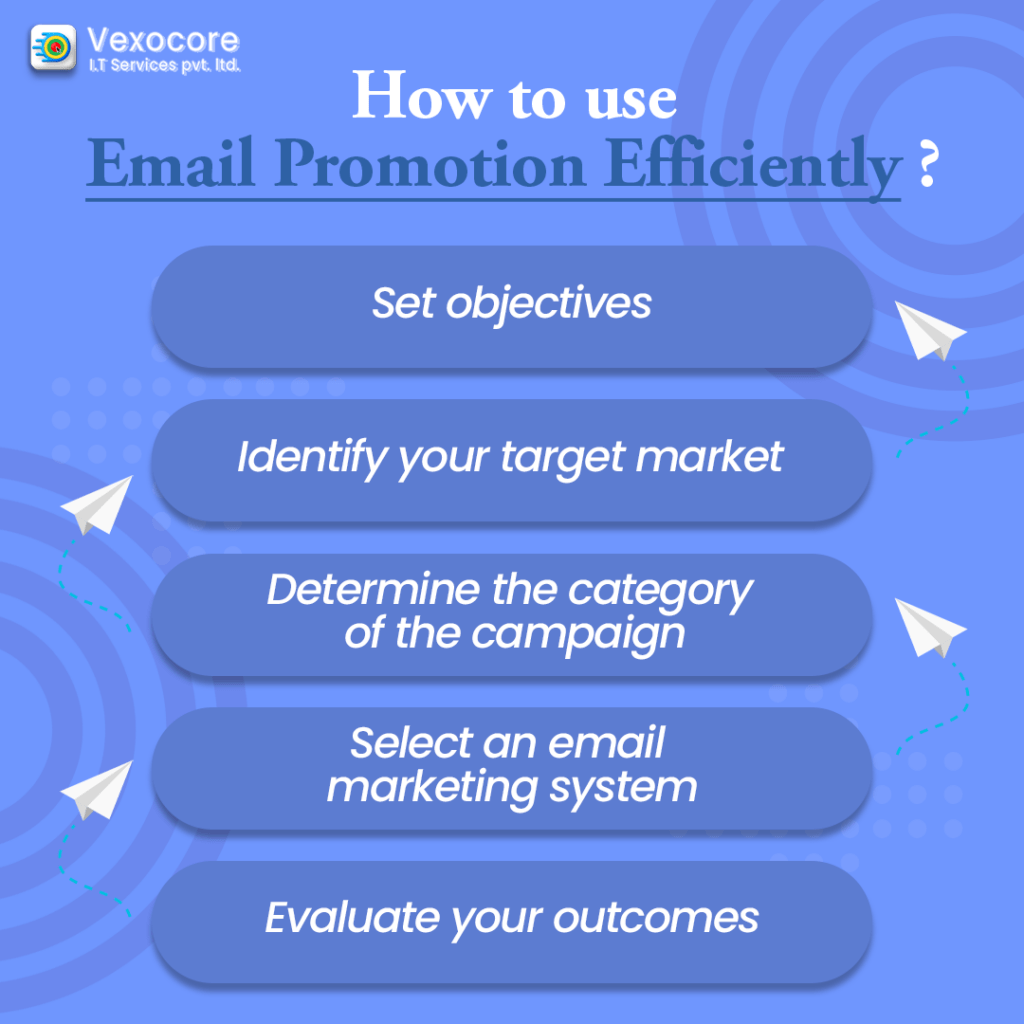 1.Set objectives.
Setting objectives will help you stay focused and prevent you from sending out spam by giving each email a purpose. Your objectives should be measurable and assist you in choosing how you will evaluate your total performance. Consider your company's requirements as you set your objectives.
-Increasing engagement with your brand, whether you're advertising a webinar or looking to close a first-time deal.
-extending a warm welcome and sharing your company's goal and guiding principles with new subscribers will help build a relationship.
-engaging subscribers again who haven't been very involved
-retaining existing clients by providing them with a valuable service.
2. Identify your target market.
If you've been using email marketing for a while, you'll undoubtedly be familiar with your target. To know your material if you're just starting, you'll need to make some intelligent assumptions. Understanding your customers is crucial because it enables you to produce material for your emails that is pertinent to them. But shortly you'll begin gathering subscriber data as soon as you send your first campaign, giving you real information to work with the following time. Gather information from your social media accounts and Google Analytics in the interim.
3. Determine the category of the campaign.
Choosing your campaign type is crucial because it allows you to concentrate on what will best reach the target group you've identified. Your email marketing plan should contain one distinct call to action (CTA) for your customers. A coordinated series of targeted emails written to engage consumers over a specific period should also be included.
Newsletters, blog or content updates, transactional emails, autoresponders like welcome emails, and promotional or announcement campaigns are some of the campaign kinds.
4. Select an email marketing system.
You can achieve the objectives that you've set for your initiatives with the aid of a solid email marketing platform. You can use it to make sending emails and gauging the success of your marketing effort more efficient. It simplifies the procedure and enables you to have everything in one location.
5. Evaluate your outcomes
You can only determine how well your email campaign worked for your objectives by measuring your results. An email marketing platform's analytics feature allows you to monitor a wide range of success indicators. Additionally, you should keep an eye on your service provider's email statistics regarding opens, clicks, unsubscribes, and forwards. This will help you determine what aspects of your email marketing efforts are effective and which ones need improvement.
The following are some specific analysis topics:
– click-through rate, which measures the frequency with which recipients of your emails hit links. This can assist you in evaluating the impact of your material.
– a unique open rate that keeps tabs on the number of clients opening your emails. This is a useful method to gauge the effectiveness of your subject lines and determine whether the recipients will find your emails interesting.
Suggestions:
When it comes to marketing of any kind, Vexocore offers the finest support at very affordable costs.
Email strategy, tools, and examples 2023