Leading tech companies, like Apple, Microsoft, Google, Meta, and Amazon, have dominated their respective markets in most of the world over the previous ten years. Companies need to change if they want to stay relevant in the fast-paced world of today. Even the Big Tech behemoths can't relax too much; to stay relevant, major companies like Google and Amazon are always coming up with new ideas and improving their products.
For a better understanding, let's examine each of the five major technologies individually: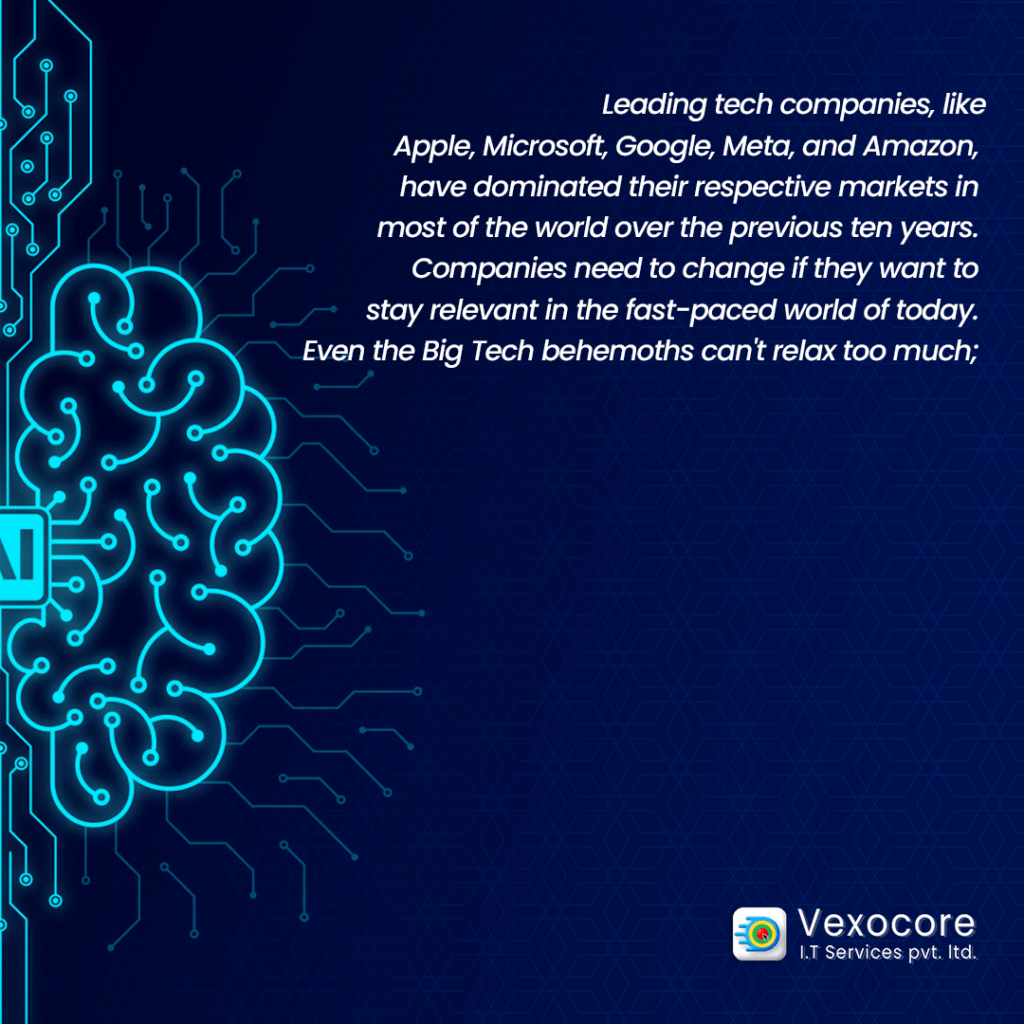 1. Apple
Apple's AI acquisitions during the past ten years have primarily been targeted at enhancing the iPhone with new capabilities. In 2010, it bought Siri, the main virtual assistant of iOS. In 2017, FaceID and other face-tracking capabilities were introduced thanks to its acquisitions of computer vision firms like RealFace and the creation of first-party chips.
Apple made $94.7 billion in profit in 2021 with a 26% margin. The business is currently one of the few Big Tech companies that have survived the valuation decline experienced by the whole sector. The corporation, which is strong and has a market valuation of over $2 trillion, is valued roughly at the same as Amazon, Alphabet, and Meta put together. Among the most successful AI technologies, Apple is also anticipated to be one.
2. Microsoft
As IT businesses scramble to make use of ever-more potent AI technologies, Microsoft is updating its search offerings with more AI, leveraging the technology behind the phenomenally successful ChatGPT.
The announcement comes a day after Google made the surprising decision to release Bard, an AI chatbot, in reaction to ChatGPT's enormous popularity.
Microsoft is making plans that it believes ChatGPT and natural language technology, in general, will play a significant role in its ambitious aspirations for artificial intelligence (AI). Today, it wants to cement its legacy as the business that popularised AI, the hottest tech trend of the twenty-first century.
3. Google
Almost every major tech company is praising AI, and it appears like Microsoft and Google are starting an AI arms race. Google has an artificial intelligence-focused branch called Google AI. Sundar Pichai, CEO of Google, unveiled it at Google in 2017.
Some information on Google's efforts to deal with AI are :
-Bard will modify Google search to resemble ChatGPT more closely.
-Google is only late to the party because they've been cautious.
-Google has already been playing the AI game for years.
Bard is one of the AI projects that Google is currently working on. Its ultimate objective is to unite the complexity, originality, and strength of large-scale language models with the diverse range of human comprehension.
Google Research has been working on AI initiatives for the past year that addresses a wide range of pertinent subjects, including COVID-19 forecasting, robotics, weather and climate change, natural language understanding, and medical diagnostics.
4. Meta
According to CEO Mark Zuckerberg, Meta currently has a staff devoted to developing tools with artificial intelligence. In the future, this might also involve additional AI tools across its apps and services, as well as "AI personas" created to assist users in "different ways".
But now Meta must figure out how to make artificial intelligence into a useful product. In the late 2010s, Facebook offered cutting-edge facial recognition technology, but it was later taken down after privacy concerns were raised. It also provided artificial intelligence (AI) technology that could instantaneously translate social media posts from one language to another, this usage ended up being limited. He claims that the business is creating AI-powered products for Instagram, WhatsApp, and Messenger.
Generative AI is a primary company priority according to Zuckerberg. Yet it's unclear how he plans to close the gap between the two significant technologies.
5. Amazon
Artificial intelligence is one of these trends, according to Amazon. Amazon always had a head start in utilizing AI to boost the effectiveness of its business operations since it was an early adopter of artificial intelligence and automation. It has been working very hard internally and using AI to enhance its customer experience. Amazon employs continuous AI in different ways to better understand customer search queries and the motivations behind their product searches. To give the customer the most helpful recommendations, an e-commerce company needs to know why the customer is searching for a product in addition to what the consumer searched for.
Some of the steps taken by Amazon on AI are :
1. Alexa's voice-activated shopping experience
Amazon claims that its voice assistant, Alexa, enables customers to browse products, make purchases, and manage the checkout process without needing to click or touch a screen. Users may control their checkout process with this without having to use their hands.
2. Amazon Go
is the newest application of artificial intelligence in the Amazon universe. These stores track each consumer purchase more efficiently than any other firm currently in operation.
3. Amazon Warehouses Using AI
Amazon uses artificial intelligence (AI) to increase supply, make sense of the data, and maintain its market leadership by automating the capacity to predict consumer demand, evaluate product availability, optimize delivery routes, and customized customer communications while tracking the entire supply chain.
Final comparison and conclusion.
We can conclude that 'Nobody Wants to be Left Behind', AI will be integrated into digital tools by big techs in more noticeable ways. And for better or worse, we'll all be participating in the experiment.
Out of the five giant techs, Google and Microsoft are likely AI champions of the future who will use their respective technologies to cement their strong positions in cloud computing. Some say Google and Microsoft may be the biggest players battling it out in the AI space, but there are indicators all over that AI represents a massive technological shift that will impact several industries. Since apple and Amazon have already started implying artificial intelligence in their platforms, these marketplaces are highly expected by experts to be one of the leading AI sites. Lastly, meta has not yet come up with a clear move for utilizing artificial intelligence though it has a strong aim for ai.
Compared to all the giant 5's, meta seem to be a little behind then the rest. If Facebook wants to adapt and remain relevant, it is high time that meta catch up with the rest of the techs.