What prevents Trump from opening his own social media profiles?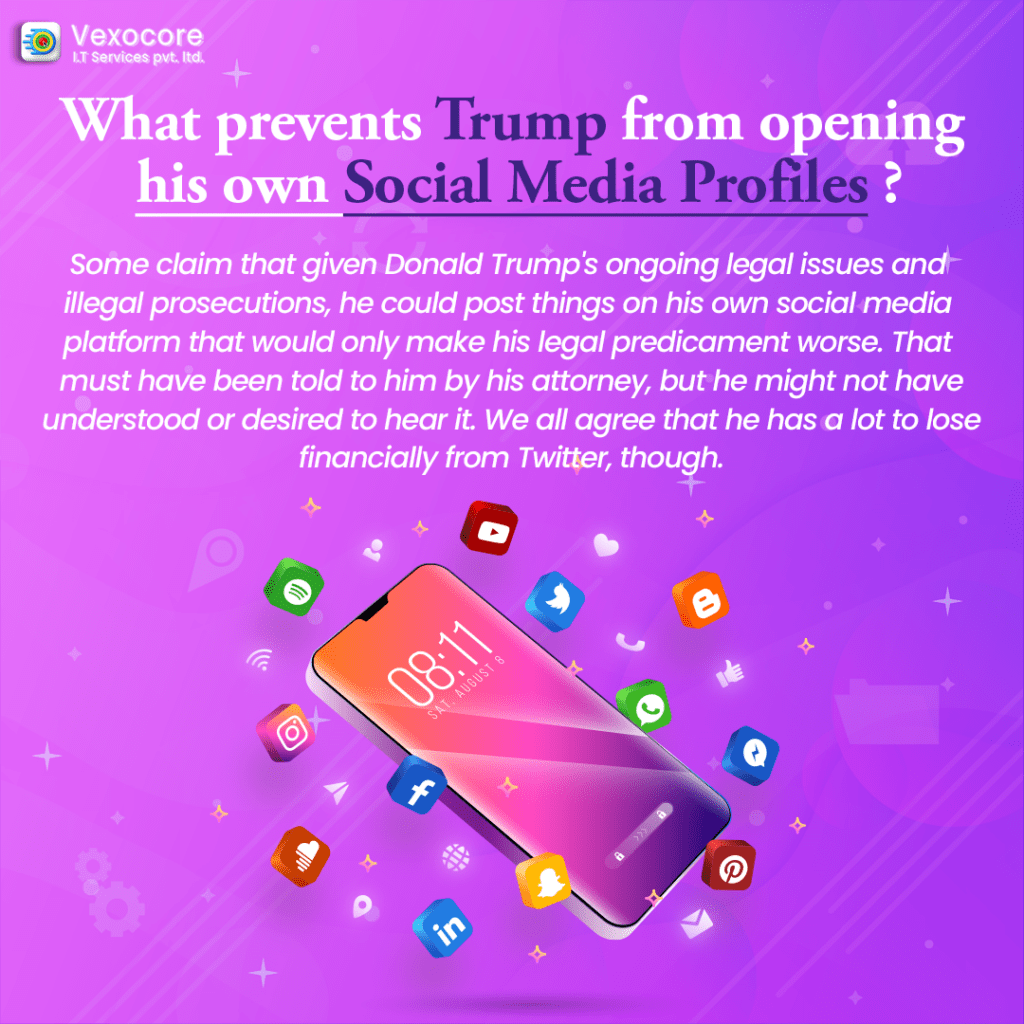 Two years ago, Donald Trump incited a group of his political allies to attack the US Capitol and sabotage the process of certifying the results of the presidential election. A security officer from the US Capitol was among the five casualties of the riot. Trump used his hugely famous social media accounts to encourage his followers. By the time Twitter banned the @realdonaldtrump handle in January 2021 following the assault on the US Capitol 2021, it had accumulated 88.7 million followers.
Some claim that given Donald Trump's ongoing legal issues and illegal prosecutions, he could post things on his own social media platform that would only make his legal predicament worse. That must have been told to him by his attorney, but he might not have understood or desired to hear it. The president took a two-year break due to all these issues. We all agree that he has a lot to lose financially from Twitter, though.
TRUTH Social.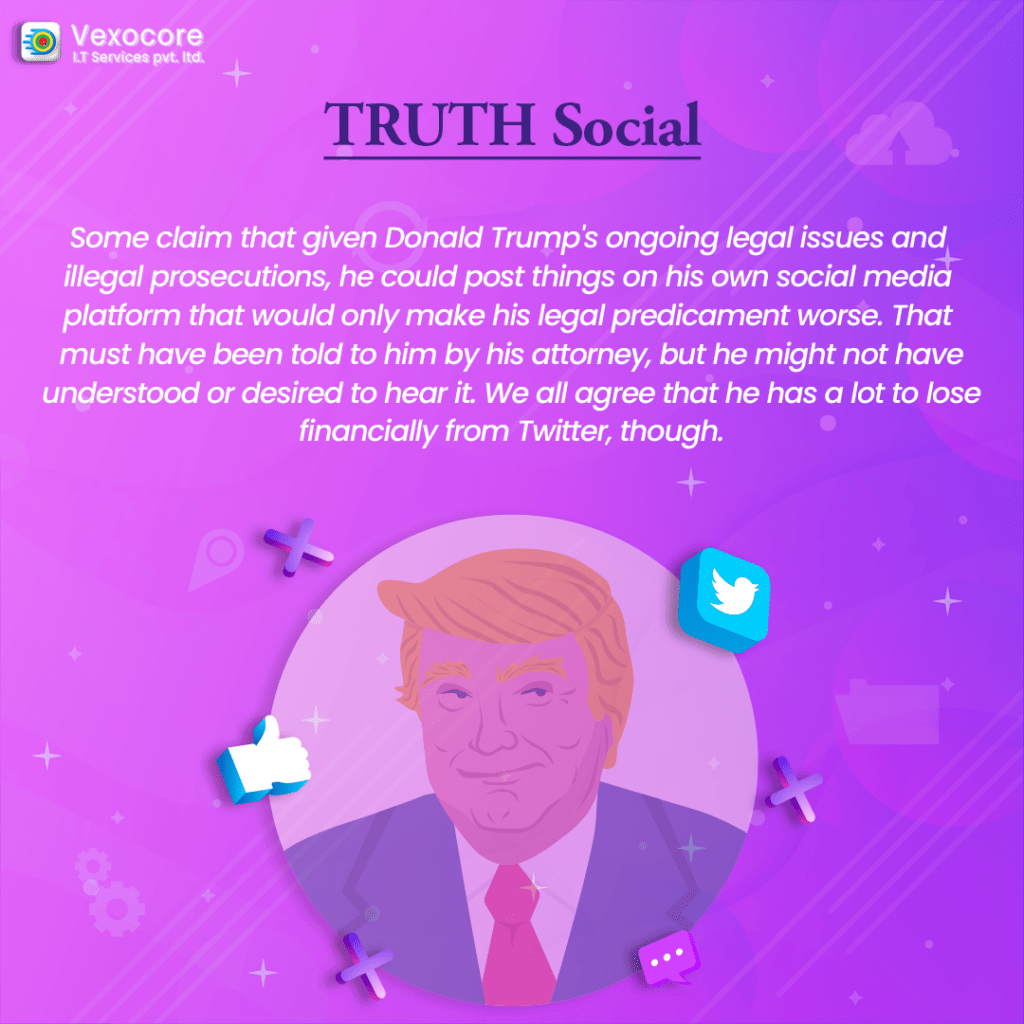 Following his expulsion from Twitter, Donald Trump founded Truth Social, a rival social media site that remarkably resembles Twitter. Donald Trump's new social media platform, Truth Social, was designed to be "a major new platform" where Republicans and Democrats could interact without being "censored" by big tech and in a setting where there was an "ironclad commitment to protecting vigorous debate." On February 21, TRUTH Social was established, about a year after Trump was expelled from Twitter on January 8, 2021. TRUTH Social initially appeared to have a sizable user base because it was one of the most popular downloads on the Apple App Store on its first day. According to The Independent, it has experienced some technical issues since its launch, and several users are still waiting to access the program. With a botched launch, a fall in the stock price, and a leader in Trump who barely uses his social media platform, it has turned into a laughingstock. Truth Social thus appears to be a disaster for him after Twitter.
Trump's social media updates.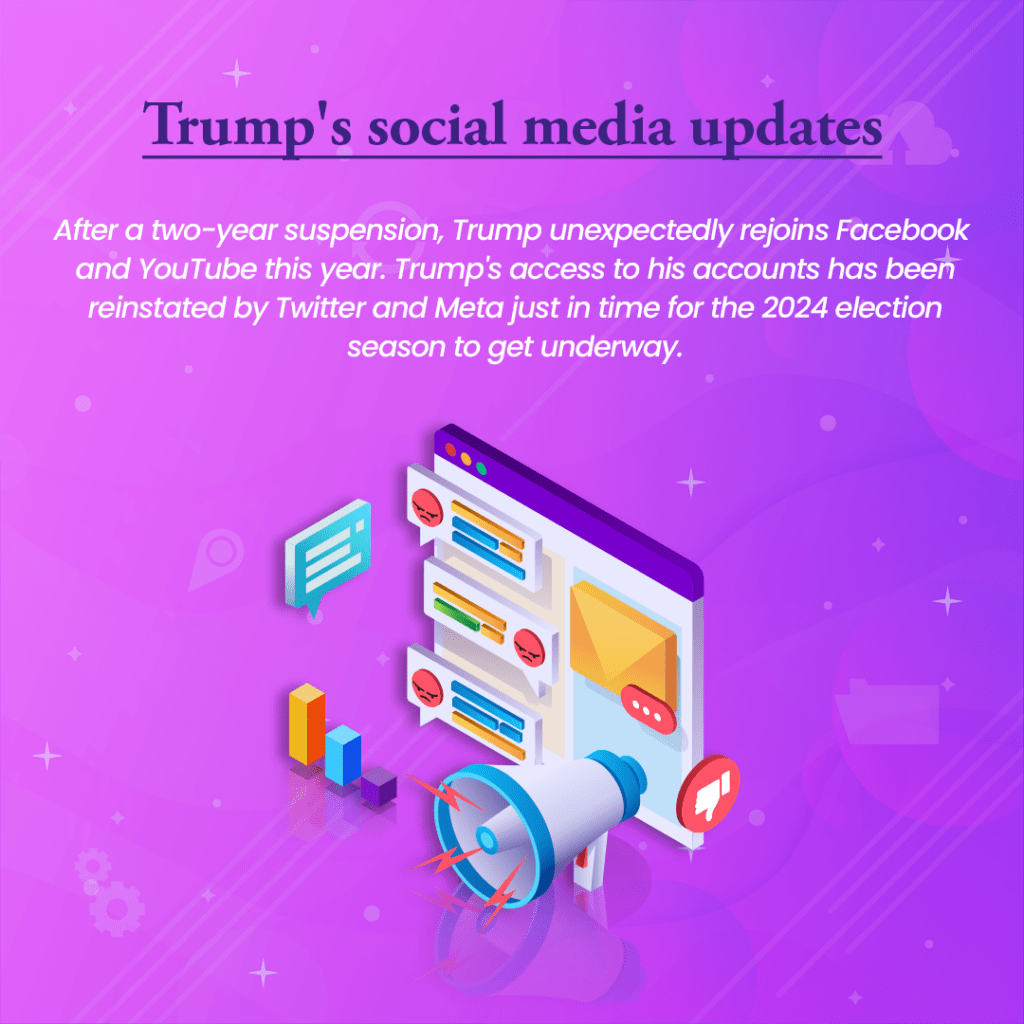 After a two-year suspension, Trump unexpectedly rejoins Facebook and YouTube this year. Trump's access to his accounts has been reinstated by Twitter and Meta just in time for the 2024 election season to get underway. On Wednesday (Jan. 25), Meta—the company that controls Facebook and Instagram—announced its choice, two months after Twitter allowed Trump to return. Meta offered a different justification than Twitter, which focused more on the sale of the company to Elon Musk, a billionaire fixated on the ill-defined goal of advancing free expression. The Facebook Oversight Board, a phony-independent panel Meta created to review its most controversial content moderation decisions, decided in July that the company should specify how long Trump's indefinite suspension will last and suggested it end after two years. Restore Trump's accounts as long as he doesn't pose a "risk to public safety," according to the recommendation's proviso.
After tweeting on January 8, 2021, he stopped. Trump has shared a few clips from his events and some fundraising messages on Facebook. He posted one new video on YouTube on March 17 saying, "I'M BACK!" to his 2.7 million followers.
Do you, however, believe that the former president will be able to manage his socials well in the future?