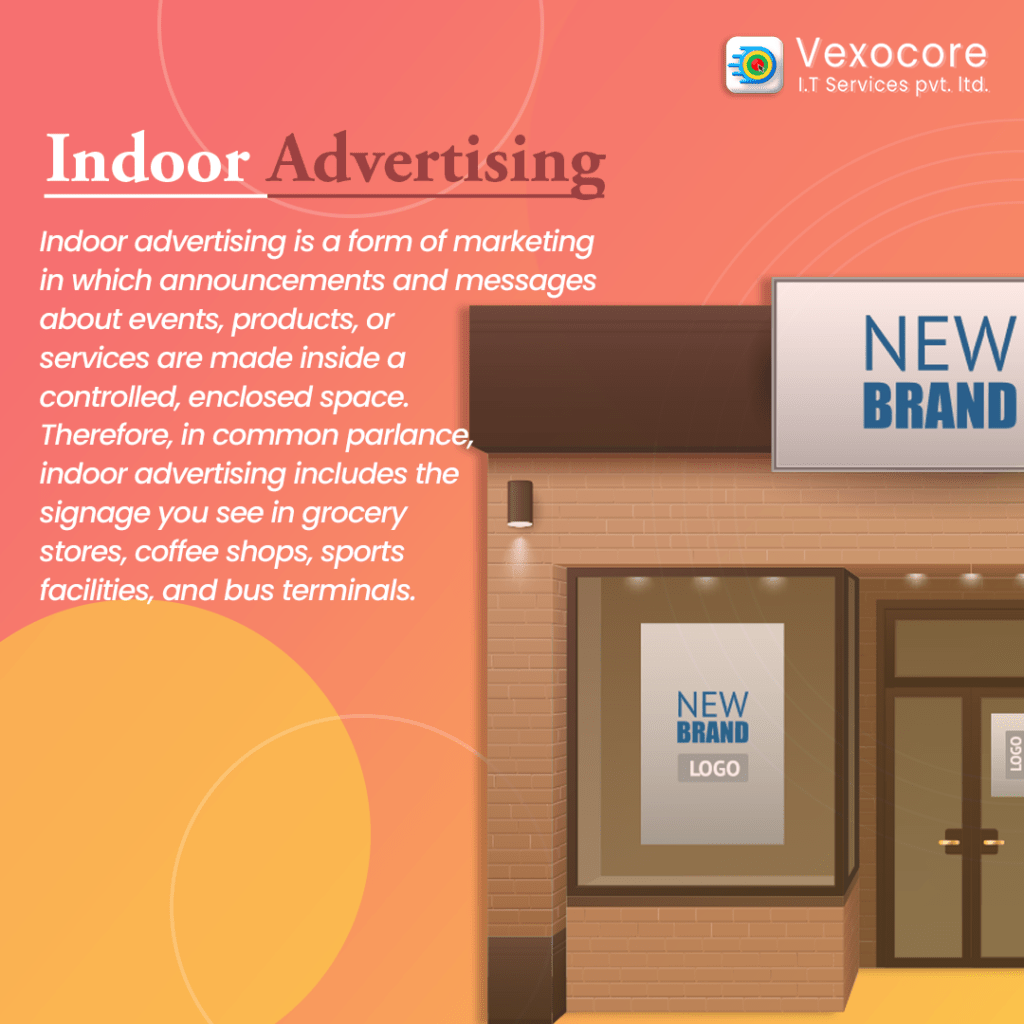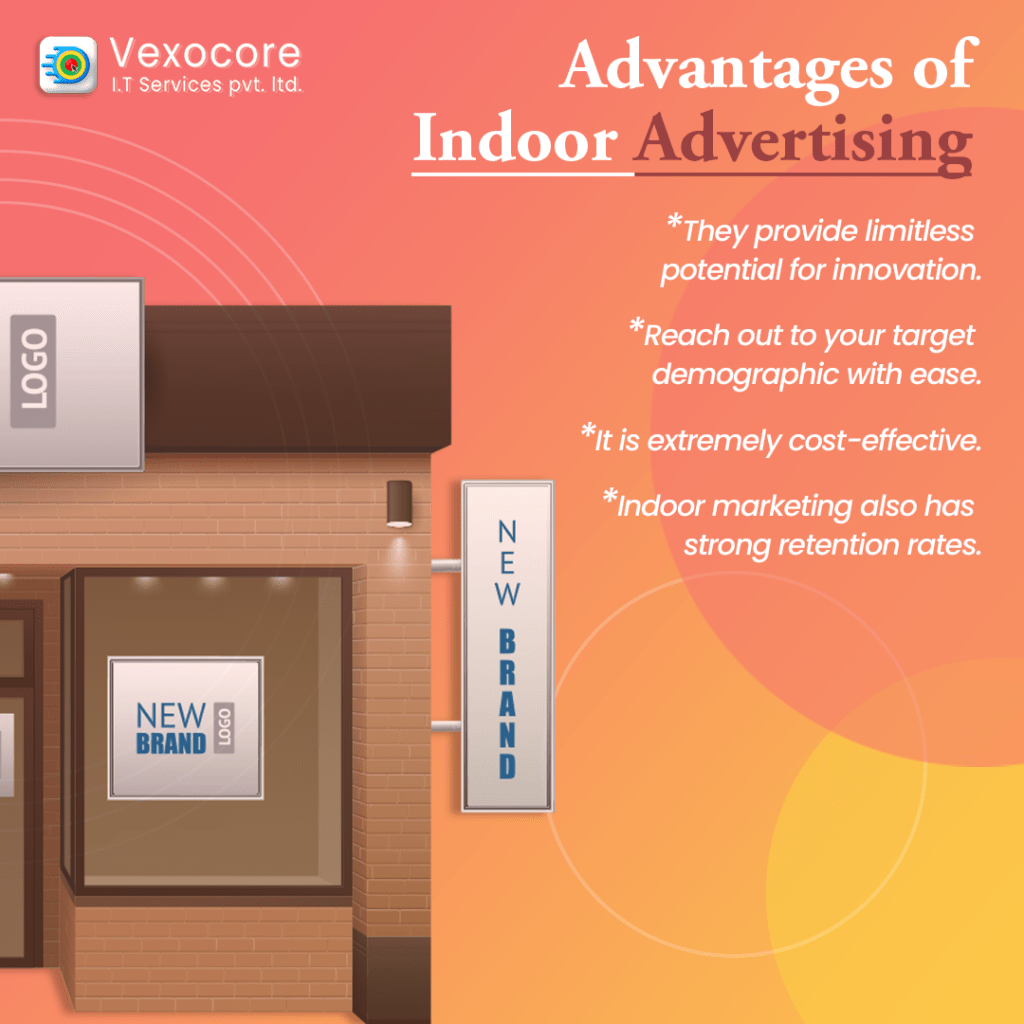 Indoor advertising.
Indoor advertising is a form of marketing in which announcements and messages about events, products, or services are made inside a controlled, enclosed space. Therefore, in common parlance, indoor advertising includes the signage you see in grocery stores, coffee shops, sports facilities, and bus terminals. Flyers, promotional posters, floor graphics, promotional stands, shop windows, light boxes, information tables, and other forms of indoor advertising are available.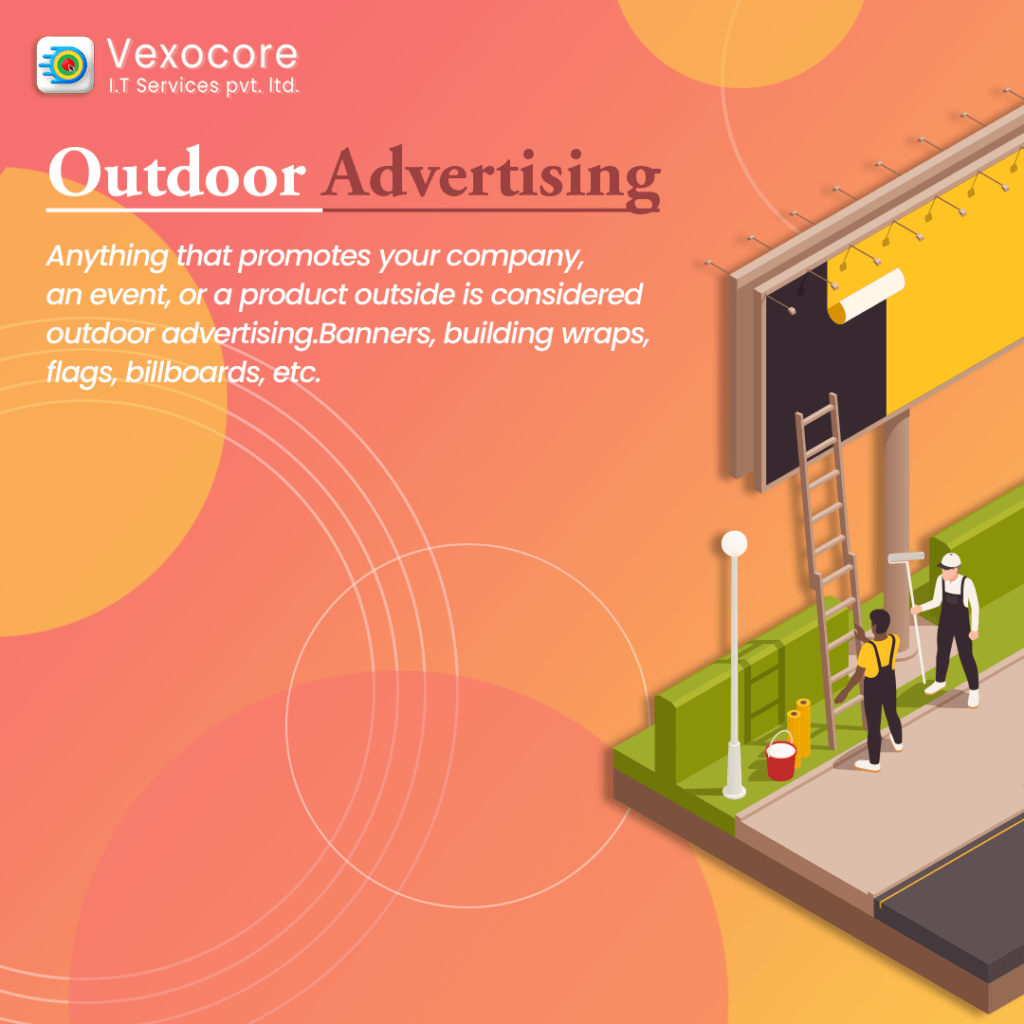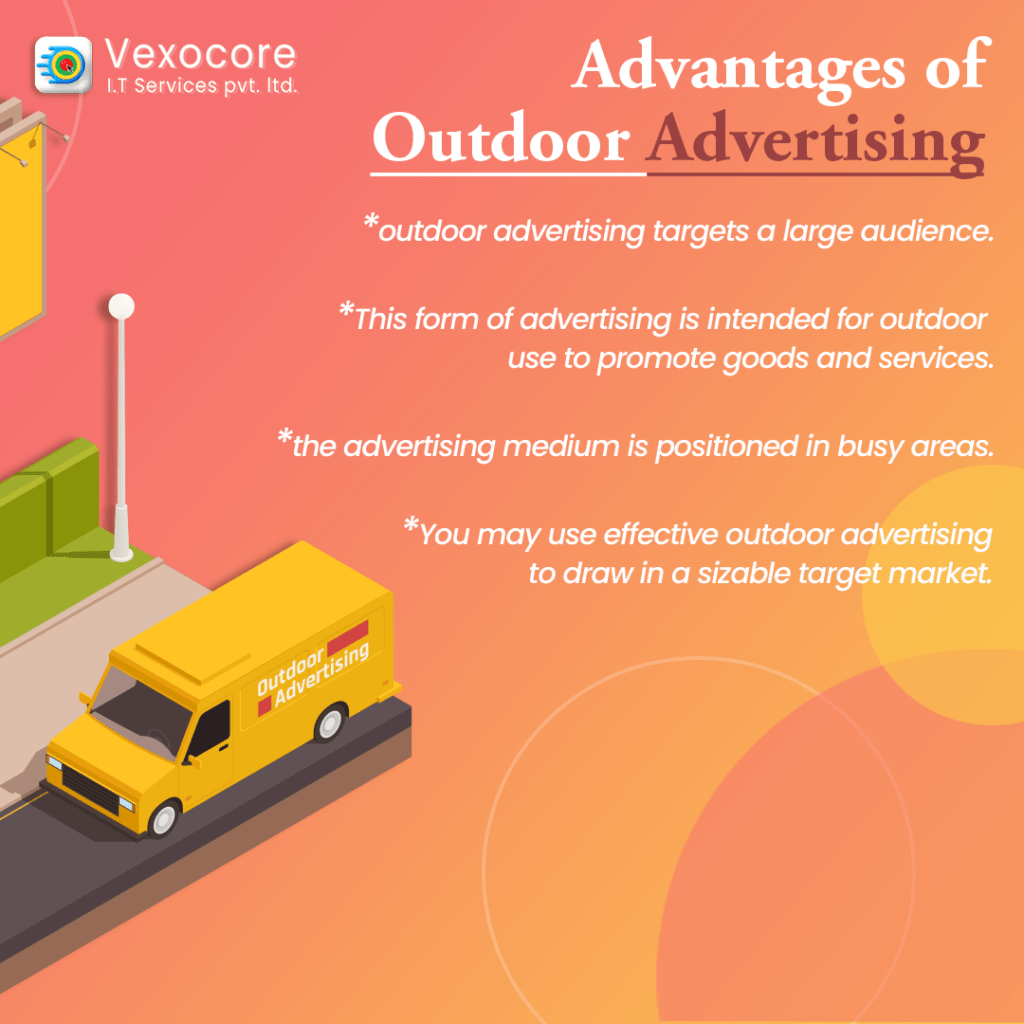 Outdoor advertising.
Anything that promotes your company, an event, or a product outside is considered outdoor advertising.
Banners, building wraps, flags, billboards, outdoor signs, the interior and exterior of buses and taxis, bus stop advertisements, and commercial vehicles are examples of outdoor advertising.
What advantages do indoor marketing offer?
Indoor advertising has many advantages.
They provide limitless potential for innovation. When used effectively, techniques like floor graphics and projection mapping are excellent for grabbing the audience's attention.
Reach out to your target demographic with ease. You can bring your indoor campaigns close to the people who matter by selecting the right location and venue to display your adverts.
It is extremely cost-effective. If placed in the correct position, indoor advertising outperforms all other print media alternatives as compared to traditional means like regular printing materials (leaflets, etc.) or targeted postal services.
Indoor marketing also has strong retention rates. With an average viewing time of between one and three minutes, indoor advertising campaigns produce stronger retention rates than conventional marketing initiatives. Compared to roadside signs, they are not only observed for a long time but they are also observed alone.
What advantages do outdoor marketing offer?
Because outdoor advertising targets a large audience, it is more effective when used for support campaigns, branding, and broad themes. Outdoor locations can be used to display outdoor advertising to get attention from onlookers. This form of advertising is intended for outdoor use to promote goods and services.
When an attempt is made to squeeze too much information in, it doesn't work well. The viewers will have a tougher difficulty understanding the message you're attempting to convey if your advertisement is cluttered and confusing, and they'll have less time to do so, squandering your money.
Companies can advertise their goods and services to consumers in public spaces and on highways by using outdoor advertising. To guarantee that the promotional materials are seen by as many people as possible, the advertising medium is positioned in busy areas.
Is Outdoor Marketing Still Powerful?
Outdoor advertising is still effective today even though it is a classic strategy. Adults typically spend most of their time outside. For example, traveling exhibits regularly draw between 35,000 and 50,000 spectators.
You may use effective outdoor advertising to draw in a sizable target market. Even now, outdoor posters, banners, flags, murals, and other display techniques are still effective.
Which is better? In a nutshell.
The success of your company depends on advertising. For optimal impact, most businesses blend indoor and outdoor advertising strategies. Both forms of advertising can be quite effective, depending on their goals. Regardless of the advertising strategy you use, the media for the campaign must be placed strategically. Additionally, it needs to be created in a way that effectively reaches the intended audience.
Reaching the target market with indoor advertising is a cost-effective strategy. The audience is reached by the advertising medium when they are at ease. Receiving the message via indoor advertising medium will increase the target audience's receptivity.
Indoor advertising certainly provides better value for the money if the goal is to reach a specific target market. In contrast, outdoor advertising will be most effective if the goal of the campaign is to promote the product to a broad audience.
While outdoor advertising should be more visual, inside advertising should use more text.