Students can become ready for professions in digital marketing by attending a boot camp. One of the most effective ways to develop the abilities you need to land a job is through boot camp programs. The skills of social media marketing, search engine optimization (SEO), branding, and project management are the main topics of attention in digital marketing boot camps. There are numerous ways to get the knowledge and experience necessary to land your first job if you are interested in working in digital marketing. According to estimates, the US digital marketing sector is worth $460 billion in 2022. Digital marketing is anticipated to increase by 9% globally to $786 billion by 2026. While a university degree is a more common option, it is by no means the only one; today, businesses are more willing to hire graduates of boot camps. By keeping up with the most recent skills, information, and strategies used by today's top digital gurus daily, you can get in on the action. Even if you have some experience in the sector, a Digital Marketing Bootcamp is still a wise investment due to the ever-evolving requirements.
A Digital Marketing Bootcamp: What Is It?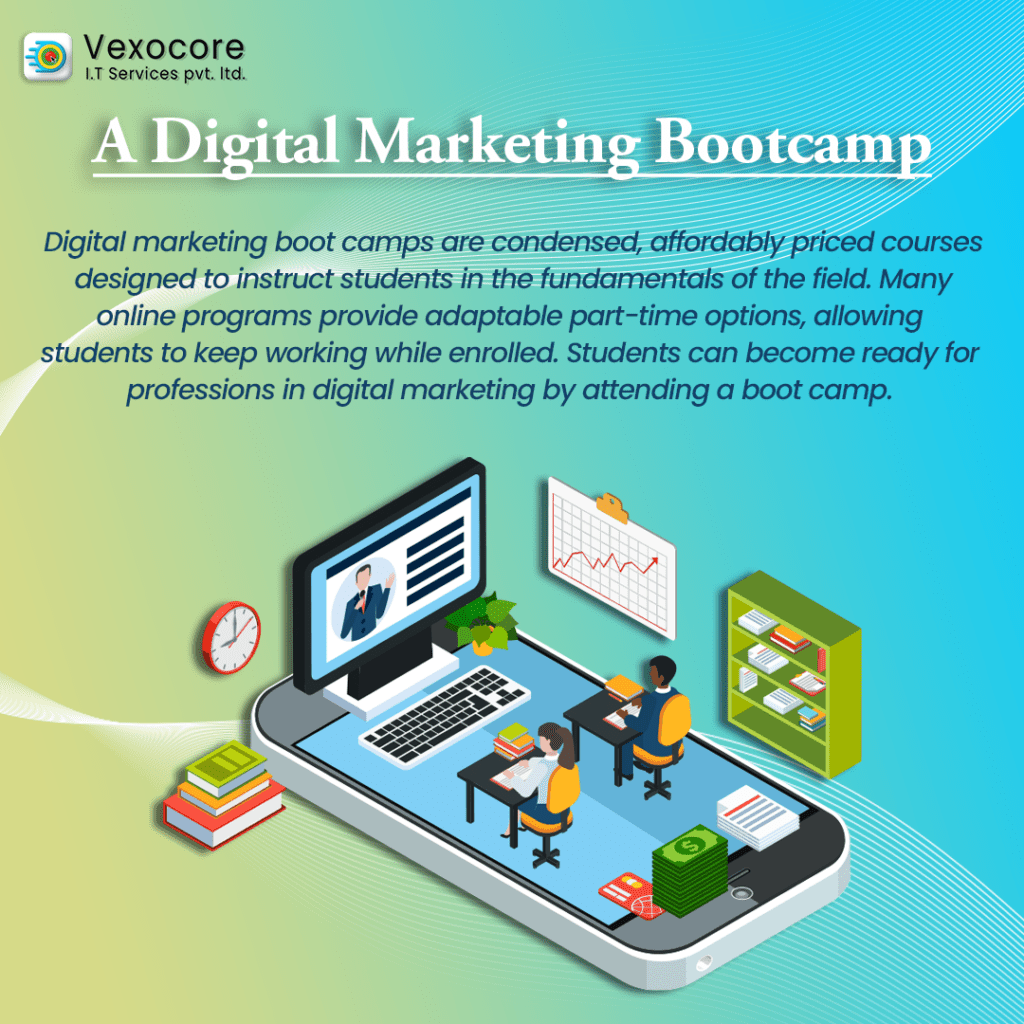 Digital marketing boot camps are condensed, affordably priced courses designed to instruct students in the fundamentals of the field. Many online programs provide adaptable part-time options, allowing students to keep working while enrolled.
While some programs stress developing theoretical knowledge, others place more emphasis on developing practical skills. You must evaluate your objectives to decide whether a marketing boot camp, certificate, or degree is the best choice for you. Consider your financial position, schedule, and chosen style of learning as well. Coding boot camps concentrate on teaching students how to write computer programs in languages like Python and JavaScript. In contrast, coding may not be discussed at all in digital marketing boot camps. Instead, these courses impart the expertise required to apply for jobs in digital marketing. Website optimization, digital advertising, and digital marketing strategy are frequently covered in curricula.
In a digital marketing boot camp, what do you learn?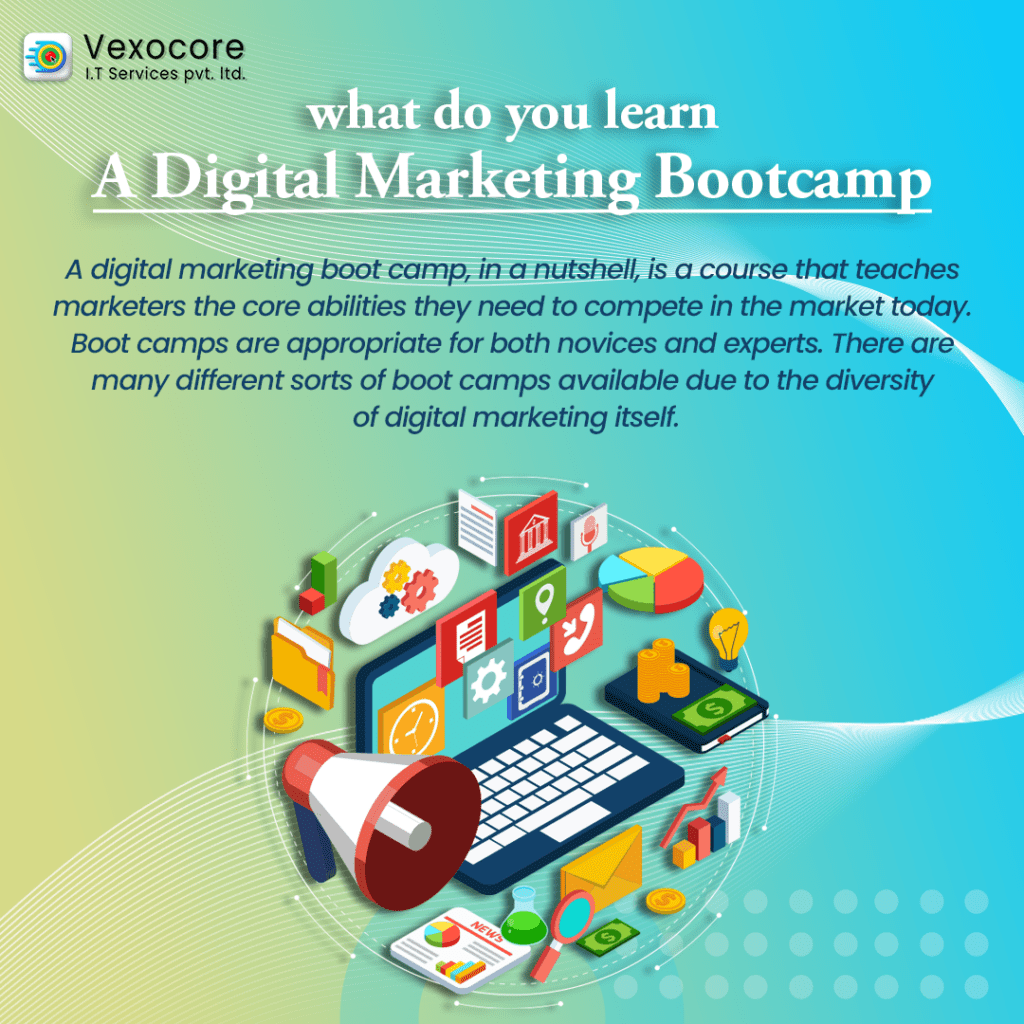 A digital marketing boot camp, in a nutshell, is a course that teaches marketers the core abilities they need to compete in the market today. Boot camps are appropriate for both novices and experts. Programs of all shapes and sizes are available with the goal of assisting each student in locating their specific needs. There are many different sorts of boot camps available due to the diversity of digital marketing itself. You can look for an all-in-one boot camp if you have never worked in marketing before. In that case, you can decide to concentrate exclusively on your content, SEO, or growth strategy.
Additionally, top-notch boot camps are run by professionals in the field. They provide the inside information every student needs to succeed since they were written by marketers, for marketers.
Skills like Paid Search Strategies, Content Strategy, Data Analysis, etc. will be taught to you.
What Positions Are Available Following a Digital Marketing Bootcamp?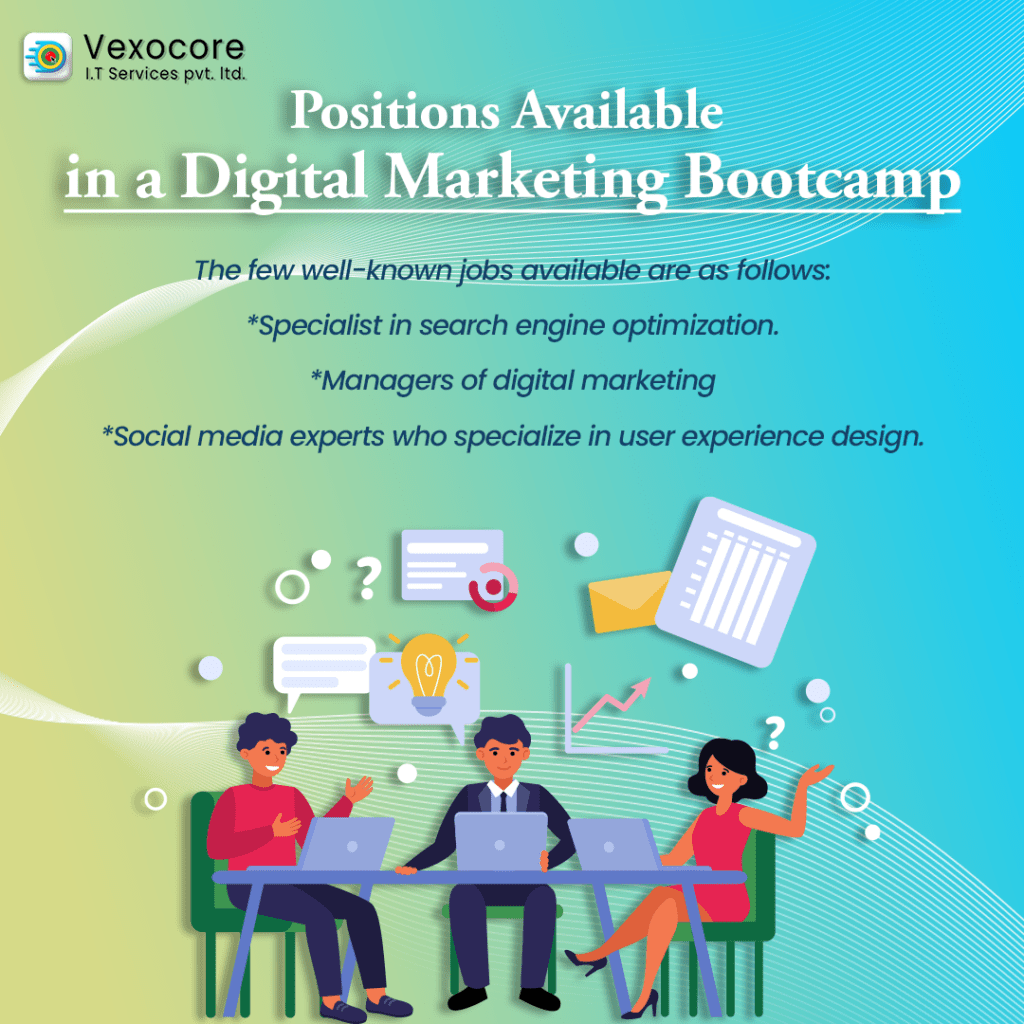 Students that attend boot camps are prepared for technological careers. Graduates of digital marketing boot camps find employment in the information, retail, and educational services sectors. Remember that many employers might favor hiring candidates with degrees.
The few well-known jobs available are as follows:
Specialist in search engine optimization
Managers of digital marketing
Social media experts who specialize in user experience design.
Why enroll in a boot camp for digital marketing?
For a number of reasons, you might want to sign up for a digital marketing boot camp. Some use it to progress their careers or to apply for a position in their existing employment that is more technologically oriented. Therefore, many boot camps advertise financing options where the employer covers the cost of the course.Boot camps often offer more flexibility and require less intense time commitments than traditional university degrees. They give you the ability to learn digital marketing skills without having to leave your current job or make a big financial commitment, in contrast to the cost of a university degree. While we're talking about digital marketing, Vexocore, a website that offers excellent IT services, is at the top of the list when it comes to marketing or technological